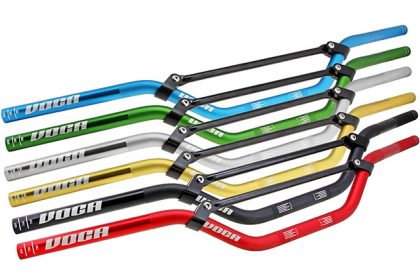 Handlebar VOCA Cross 22,2 for Gear-Bikes!
New colors available! The VOCA handlebars are made of 5mm thick, high quality T6 alloy, 22,2mm diameter. Very resistant and very light, toped by a stunning VOCA design.

Total Length of 805mm, laser marked cutting lines on the surface (795mm and 785mm).
Heigth measured fromt the clamps to the grips is 94mm.
The VOCA handlebar is the perfect choice for all gear bikes equiped with Ø22,2 handlebar clamp.

Numbered positioning lines in the center of the handlebar.
Laser engraved VOCA logotypes on the surface.
Polished right side of the handlebar enables easy fitting of the grip (throttle).
Special finish on the left side for correct fitting of the grip.
Choose between red, black, green (NEW!), blue (NEW!), gold (NEW!) and alu (NEW!).  Quality made by VOCA Racing!